Where there is no light your finger will glow, just bring your nail salon home!
Main Features
[Color Changing] The color of the poly gel would be changing under different brightness, the color of polygels will change. The higher the brightness, the lighter the luminescence; the lower the brightness, the brighter the luminescence.

[Eco-friendly] The poly gel uses natural and cruelty-free synthetic resin will do no harm to your natural nails and skin at all. It has no smells, protect you and your families healthy.
[Easy To Apply & Long Lasting] The poly gel is fairly easy to use for beginners. No glue needed, just follow the simple instruction on our listing page. The gel is also durable and strong, the nails wouldn't lift even after 3-4 weeks or even longer if you make your nails the right way (filing, buffering, cleaning, applying base coat and topcoat and properly cured).

[Remove Tips] If you want to make something new and remove the poly gel, you can file the nail extension gel off and then buffer it. A nail drill will save your time and help to remove it faster and cleaner.
How to use?
apply base coat Cure under UV/LED lamp.

choose suitable false nail tips.

using UV brush dip little Nail Liquid.

apply POLY GEL evenly, stick it on your nails completely and use UV/LED lamp to dry it.

take false tips down.

using nail file to polish nails.

apply a thin coat of top coat, and dry it.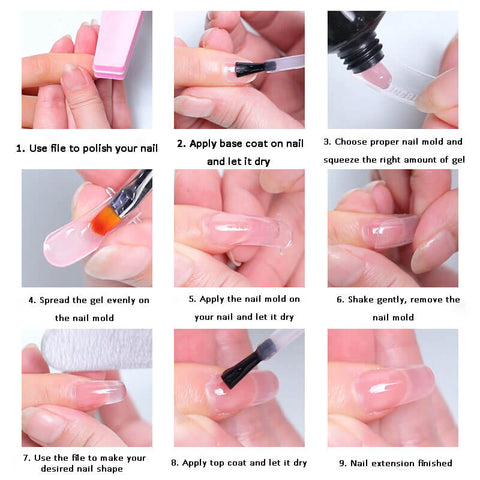 Package Includes:
1 Luminous nail gel